2019 Follow-Up Survey
The Wyoming Quit Tobacco program (WQT) helps participants trying to quit using tobacco. The WQT Follow-Up Survey is a monthly phone survey of people who signed up for the WQT by completing an intake online or over the phone. It was administered seven months after the intake, between June 2018 and May 2019. In 2019, 668 people, 35% of those who signed up for the WQT, completed the Follow-Up Survey.
Intake in January Was High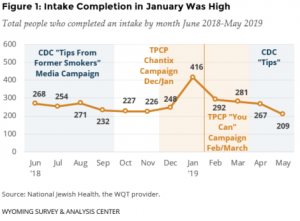 The number of people who signed up stayed relatively stable between June 2018 and May 2019. There was a slight downward trend from a spike in January to May 2019 (Figure 1). It is possible that the Tobacco Prevention and Control Program (TPCP) Chantix campaign contributed to increasing intake in WQT, but is unclear how much the campaign contributed to the increase.
WQT Helps Wyoming Adults Quit Using Tobacco
In 2019, 30% of people who signed up had been quit for at least 30 days at follow-up seven months after the intake, matching the provider's cumulative quit rate since 2013.
WQT has three major options: phone coaching, nicotine replacement therapy (NRT), and prescription medications (Chantix and Zyban/Wellbutrin). Coaching is required to obtain NRT or prescription medications. The most popular program option was phone coaching combined with NRT (Figure 2).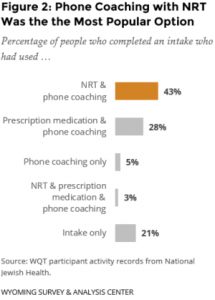 The highest 30-day quit rate (36%) was for people who used phone coaching and prescription medications (Figure 3).
Using no WQT options (intake only) resulted in a similar quit rate as phone coaching alone. Therefore, medications may play a greater role in WQT success than phone coaching does.
About four out of five (79%) people who signed up but had not quit at the time of the Follow-Up Survey reported making at least one quit attempt since completing intake.