Tobacco Cessation
Benefits of Cessation
Smoking cessation has short- and long-term health benefits (Table 5). Some health effects of smoking cessation (e.g., increased lung functioning) are evident within a few weeks or months of quitting, suggesting that relatively brief periods of abstinence have health benefits. Others (e.g., reduced risk of stroke) are not fully evident for five years or longer, reflecting the long-term benefits of successful smoking cessation (as compiled by the American Cancer Society [ACS], 2015). Smoking cessation stops pathogenic processes which lead to cancer (CDC, 2010).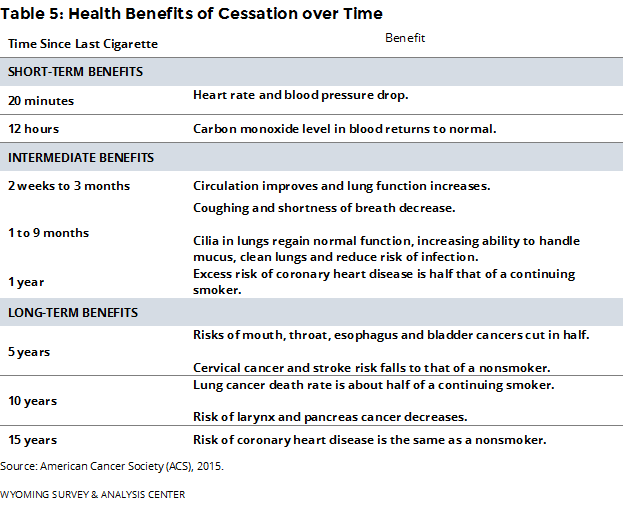 Cessation among Wyoming Smokers
In 2015, most (86%) adults in Wyoming who smoked every day or some days had stopped smoking for at least one day in their lifetime because they were trying to quit smoking for good. This statistic has remained fairly steady since 2010. Of those smokers who had tried to quit in their lifetime, over half tried to quit smoking at least once in the past year. The most popular cessation aid in Wyoming is nicotine replacement therapy (NRT): 28% of current smokers who had made a quit attempt within the previous year used NRT (WYSAC, 2017a).
The Wyoming Quit Tobacco Program (WQTP)
The WQTP assists Wyoming residents who want to quit using tobacco by offering them telephone-based cessation coaching and NRTs or prescription medications. In addition, the WQTP offers online, texting, and email support services. National Jewish Health has been the WQTP service provider since 2013.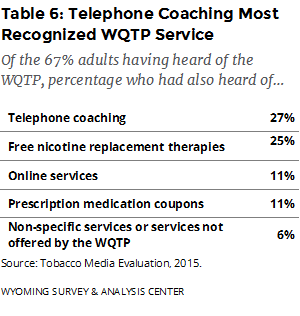 In 2015, 67% of Wyoming adults reported having heard of the "Wyoming Quit Tobacco Program or WQTP." The most well-known WQTP services were telephone coaching and NRTs (Table 6; Tobacco Media Evaluation, 2015).
WYSAC conducts monthly surveys of WQTP enrollees seven months after their enrollment. Every six months, WYSAC generates a report primarily based on this follow-up survey. In this Annual Summary, WYSAC presents stable patterns in the results from those surveys.
The majority of people who enroll in the WQTP do so to get help quitting cigarettes, though some seek help quitting smokeless tobacco, ENDS, and/or other tobacco (e.g., cigars, cigarillos, little cigars, hookah, and pipes). Seven months after enrollment, about one fourth to one third of WQTP survey respondents have succeeded in quitting tobacco use. Quitting is defined as not having used tobacco in the 30 days prior to completing the survey. Enrollees who use coaching and medication often see the greatest success rates, including a substantial improvement over using coaching alone (currently, enrollees must use coaching to obtain medications). The most recent version of WYSAC's WQTP report is here: https://wysac.uwyo.edu/wyomingtobacco/2017/12/18/wyoming-quit-tobacco-program-follow-up-survey-5/.